Exhaust Systems & Exhaust System Repairs
Oshawa Exhaust System Services
Demand more from your exhaust system at Auto Tire & Safeties. When your exhaust system isn't working as it should, it's time to stop by Auto Tire & Safeties. We are here to help you when your system is down and the smog is up. Talk with a member of our team today, or stop by to see our inventory.
We serve Oshawa, Whitby, Courtice, Ajax, Pickering, and surrounding areas. In addition to installs, we repair, replace, and maintain all types of exhaust systems.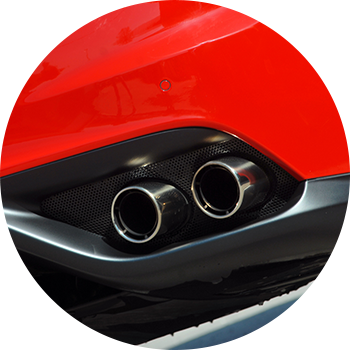 Have questions? Contact us during business hours for information on current inventory and pricing.
Proper Maintenance & Repair
Proper maintenance goes a long way in keeping any component around for its intended life and performance level. We want to ensure you're getting the most value out of your vehicle's factory or custom exhaust system, which is why we offer maintenance and repair services. Don't trust exhaust system repairs and replacements with just anyone. Trust the best muffler and exhaust shop around.
Talk with Our Team Today
At Auto Tire & Safeties, our staff will work with you to find the perfect performance exhaust or take care of your current one. When you're ready for muffler maintenance, exhaust replacement, or performance exhaust installation, come to our automotive service center serving Oshawa, Courtice, Whitby, Ajax, Pickering and more.
Description of Exhaust System Repair
Located on the underside of your vehicle, the exhaust system is responsible for collecting and directing harmful emissions away from the vehicle, reducing the amount of pollutants released into the environment, and minimizing engine exhaust noise and force. The exhaust system is composed of pipes and tubing designed to streamline vehicle operation while maximizing vehicle performance and efficiency. Engines produce dangerous gases as a byproduct of the combustion process. The exhaust manifold collects the emissions from the engine and funnels the gases through the front pipe to the catalytic converter. The converter transforms these harmful gases, like carbon monoxide, hydrocarbons, and nitrogen oxide, into less harmful ones, like oxygen, nitrogen, water vapor, and carbon dioxide. The muffler helps cancel out the noise created by the engine. The muffler dissipates sound waves while the tailpipe releases the converted gases into the atmosphere.

Benefits of Exhaust System Repair
Depending upon the problem, the exhaust system can affect both your vehicle's performance and your ability to drive. For these reasons, it is important to keep current with maintenance intervals on your exhaust system. A repair service may be impending if you hear excessively loud noises during acceleration. These noises may be a sign of holes or cracks somewhere in the exhaust system. Rattling noises when starting the vehicle or excessive idling may be a sign of failed or broken hangers. If you feel drowsiness while driving, this may be a serious sign that fumes are leaking through the vents and into the cabin interior. Sharp odors are also signs that noxious fumes are leaking into the vehicle. Signs of rust or cracks in any component of your exhaust system indicate corrosion. If you experience any of these symptoms, you should seek a service sooner than later. Maintaining routine exhaust system services will help keep all your exhaust components, like the exhaust manifold, front pipe, downpipe, catalytic converter, and muffler, working efficiently. Routine maintenance on your exhaust system will save you from having to replace the entire exhaust system down the road.
Catalytic Converter Replacement
Located on the underside of your vehicle, the catalytic converter helps clean up vehicle emissions before expelling them…
Approx. Time: 60 Minutes
Center Exhaust Section Replacement
The center exhaust section contains the catalytic converter and the section of exhaust pipes between the downpipe and the tail pipe…
Approx. Time: 60 Minutes
Downpipe Replacement
The exhaust system is responsible for converting engine emissions into less harmful gases before releasing those gases into the atmosphere…
Approx. Time: 60 Minutes
Exhaust Inspection
The exhaust system collects the harmful emissions released from your engine and directs them away from the vehicle…
Approx. Time: 15 Minutes
Manifold Replacement
In your vehicle's exhaust system, the manifold collects harmful emissions produced by the engine during the combustion process…
Approx. Time: 120 Minutes
Muffler Replacement
As part of the exhaust system, the muffler is responsible for dampening engine noise and releasing vehicle emissions into the environment…
Approx. Time: 60 Minutes